Bellow Seal Globe Valve

Model:
Description:
Product name:Bellow Seal Globe Valve
Size: 1/2"-36"
Pressure: 150LB,300LB,600LB,900LB,1500LB
Material: WCB, LCB,LCC, WC6,WC9, C5,C12,C12A, CF8, CF8M, CF3, CF3M, CN7M ect
Connection: Flanges,RTJ Flange,Butt Weld,Hub end,Groove
Operate: Handwheel, Wormgear, Gearbox, Penumatic Actuator, Electric Actuator, Hydraulic Actuator
Feature:
1,OS&Y Outside Screw and Yoke, Bolted bonnet,
2,Double seal design(Bellow + Sealing), stem packing also can protect against leak.
3,Bellow seal globe valve,the pivotal part of which-metal below,automatic roll welding the bottom of bellow with the stem component,automatic roll welding the top of bellow with the connecting plate,which is metal barrier betweeen fluid and atmosphere,ensure stem zero leak.
4,There is a grease nipple on the valve cover,it can direct lubricate the stem,nut and sleeve.
5,Human engineering handwheel,-an enhanced design provedes longer life,easy and convenient operation,more safety.
Standard:
Design and Manufacture:ANSIB16.34,BS1873
Pressure-temperature rating: ASME B16.34
Face to face(end to end):ANSIB16.10
End Connection: 2"-24" ASME B16.5; 26" -42" ASME B16.47; B.W end ASME B16.25
Test and inspection:API598
Structure: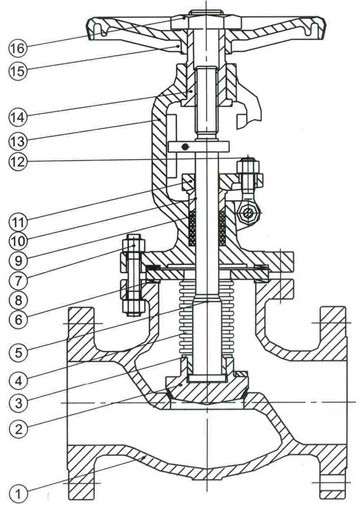 Product Categories
Contact Us
E-mail:sales@valveschina.com
Tel:86-577-85682968
Fax:86-577-86582978
Mobile No:86-13855311925